"Opening Up" is the wrong mental model
Fire Season is a better way to think about life during COVID-19
My last post was a little over a month ago. Fortunately, most of the country has been spared the devastating outbreak of the tri-state area. Because of this, one one might reasonably ask the question "when will everything open up again?"However, this is the wrong question, and the wrong way to think about what life will be like. Fire season is a better metaphor for how we should think about this, with vaccines being the rain and climate that ends it.
Much like the messaging on masks, I believe the messaging on "shut down" and "opening up" was useful in the short term but problematic in the long term. This language creates a binary mental model, a false sense of security, and sets people up for confusion and disappointment if cases rise again. Until we have a vaccine, we need to think about COVID-19 as a persistent threat, where individuals need to manage their behavior, take calculated risks, but be prepared for society to take drastic measures if those measures fail.
Containment, but not suppression
For some perspective, over 5 weeks the numbers are 10-20x worse:
163,000 infected —> 1.3 million infected

3,000 deaths —> 78,000 deaths, with 1,700 deaths per day

3 million unemployed —> 33 million unemployed
It's difficult to reconcile how unprecedented this is with the fact that it could have been much worse. Shelter in place is a very blunt instrument, and is not intended to last forever. At the time we had no idea how widespread the virus was, and needed to act to prevent hospitals from being overwhelmed.
The point was to suppress the spread, and buy time to acquire PPE and scale up test, trace, and isolate infrastructure. To that end, we've done a decent job:
Testing capacity per day is up 3x (from 100,000 —> 300,000)

The % of positive tests has dipped below 10% nationally, indicating a better picture of the infected population

Doctors have improved protocols to treat of severe infections and most hospitals have setup COVID wards and response teams, reducing mortality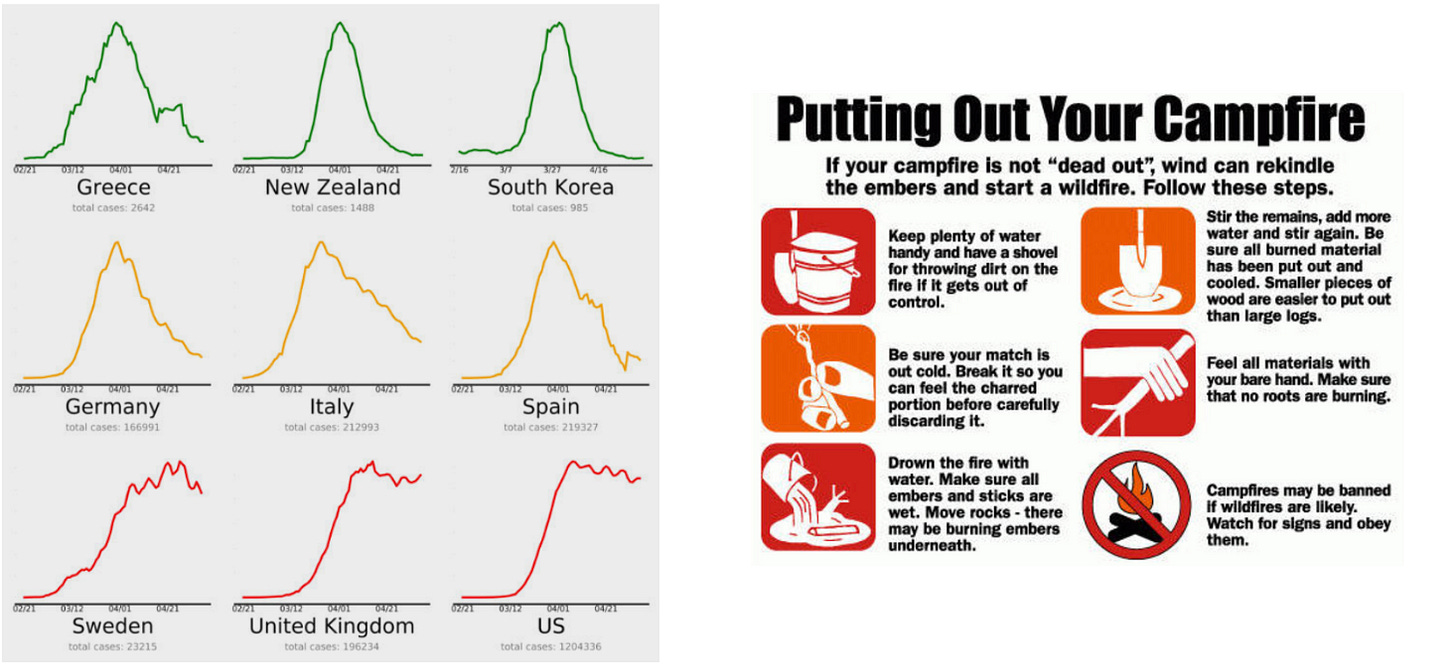 The countries in green have suppressed the virus, the countries in yellow are nearly there, whereas the countries in red have contained but not suppressed the virus. The difference between containment and suppression is the difference between pouring a bucket of water on a campfire and leaving the fire with burning embers.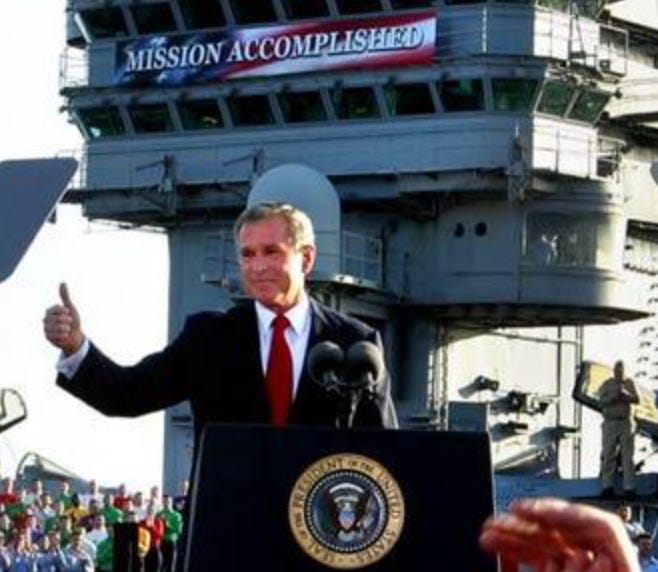 A lot of variables affect whether a nation can suppress the virus, but nationally we are sitting at an unacceptable plateau. Despite this, the president and other federal officials are talking about "re-opening" the country while we are having the equivalent of a 9/11 every two days. An unfortunate tradition in modern American history is declaring victory when the worst is in front of us. 6 weeks after invading Iraq, George Bush declared the end of major combat operations. We all know how that turned out.
The U.S. is a large, heterogeneous country. In the absence of a strong and coordinated federal response, states and regions need to decide how to manage risk rather than thinking of this as a singular "re-opening" event. We also need to be honest about the risks people are taking.
We should not bet on having treatments or vaccines any time soon
Johnson & Johnson, like its peers, is attempting to do in six to 12 months what usually takes 5 to 7 years, CEO Alex Gorsky reminded analysts on a conference call on Monday.
Science is the only way to truly return to normal. Many have been hanging on the hope that we have a treatment by the fall and a vaccine early next year.  We are betting on something happening that has never happened before.
There are reasons to be optimistic — the public is about to see all the incredible advances in biotech over the past 20 years be put to the test. Stay tuned for more writing on that. Until we have hugely effective treatments or vaccines, we're going to need to change our behavior.
Fire Season is a better metaphor than re-opening
Every year in California, people stock up on masks, government agencies mobilize first responders, and, and due to crappy infrastructure, parts of society get shut down. Sound familiar? That's fire season in California. These steps have helped limit the severity of wildfires and save lives, and we'll likely have an analogous system to manage risks as government relaxes shelter in place. Here's how:
Power shut offs — the blunt instrument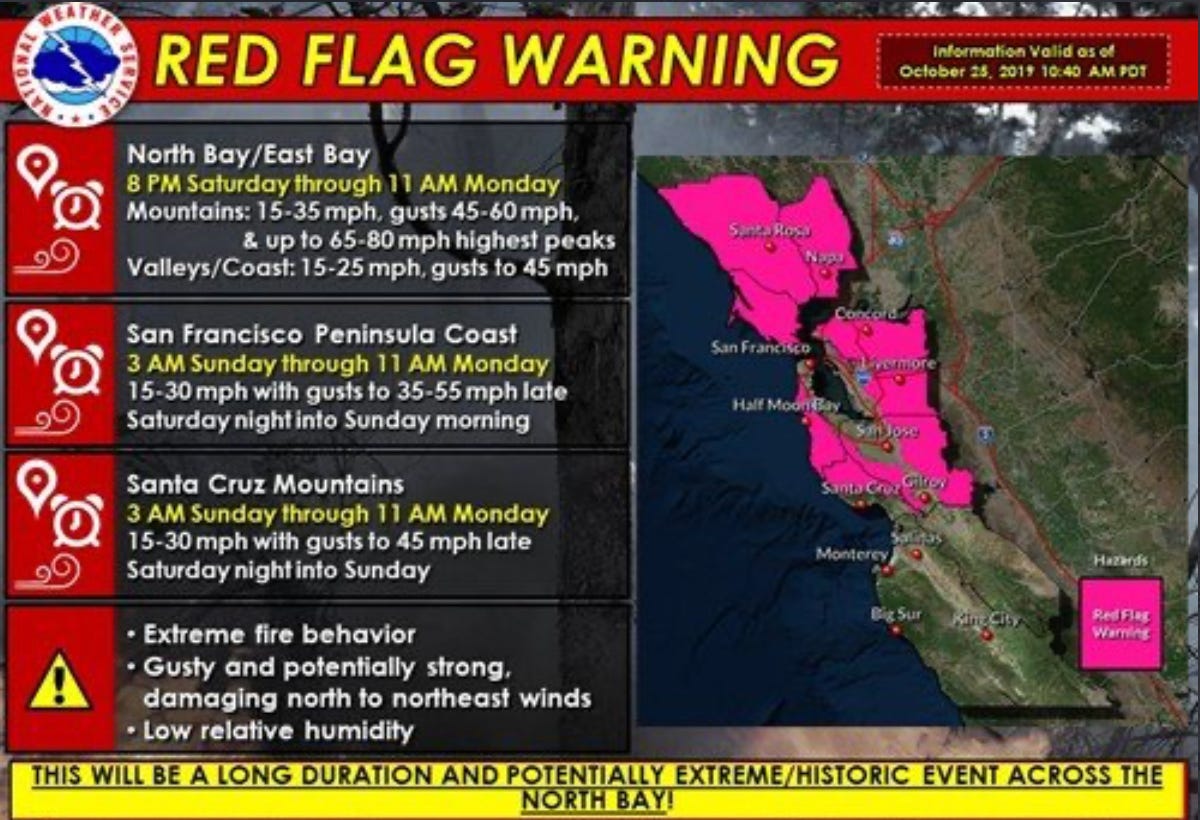 A Red Flag Warning is issued for weather events which may result in extreme fire behavior that will occur within 24 hours. During these times extreme caution is urged by all residents, because a simple spark can cause a major wildfire
This is the highest level of risk. Power lines have caused many of the major fires in Northern California and as a result, PG&E will shut off power in these conditions. This practice is controversial and is the result of structural problems rather than being the ideal solution.
Individual actions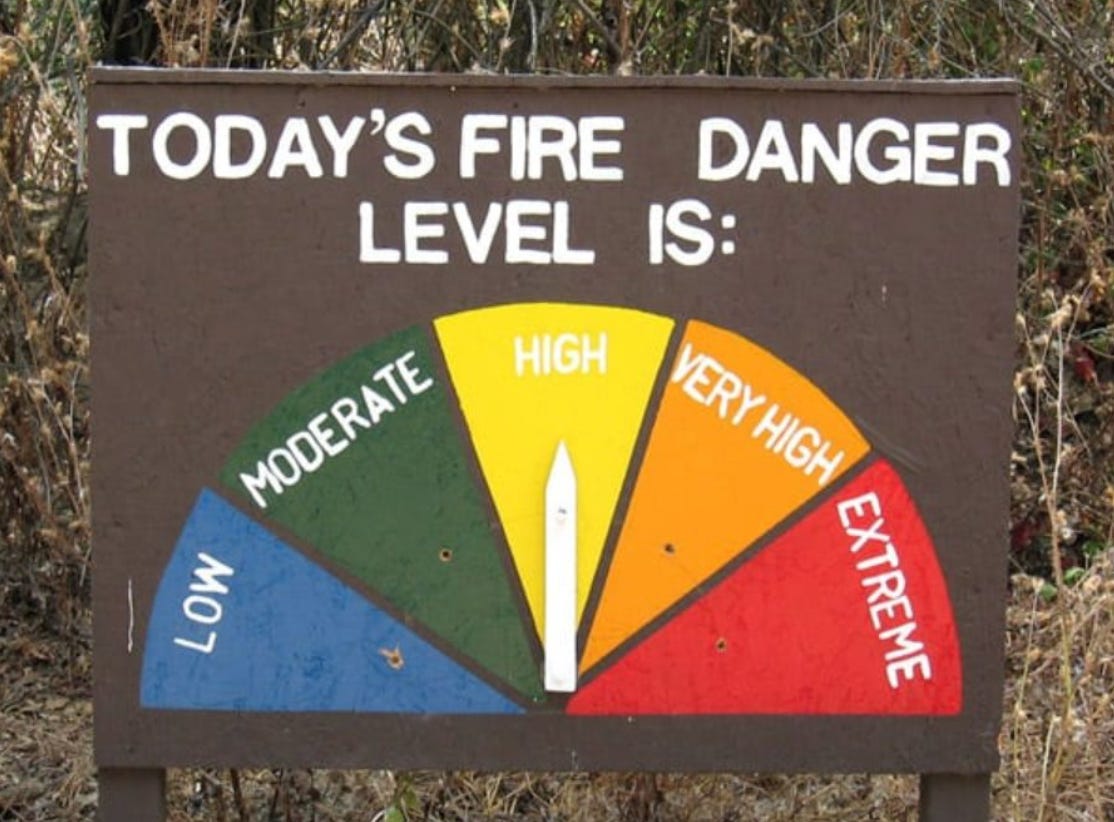 Depending on the fire risk, people are given danger levels that explain how they should adapt their individual behavior. Can I setup a campfire? Where? What precautious should I take?
Move rapidly to contain outbreaks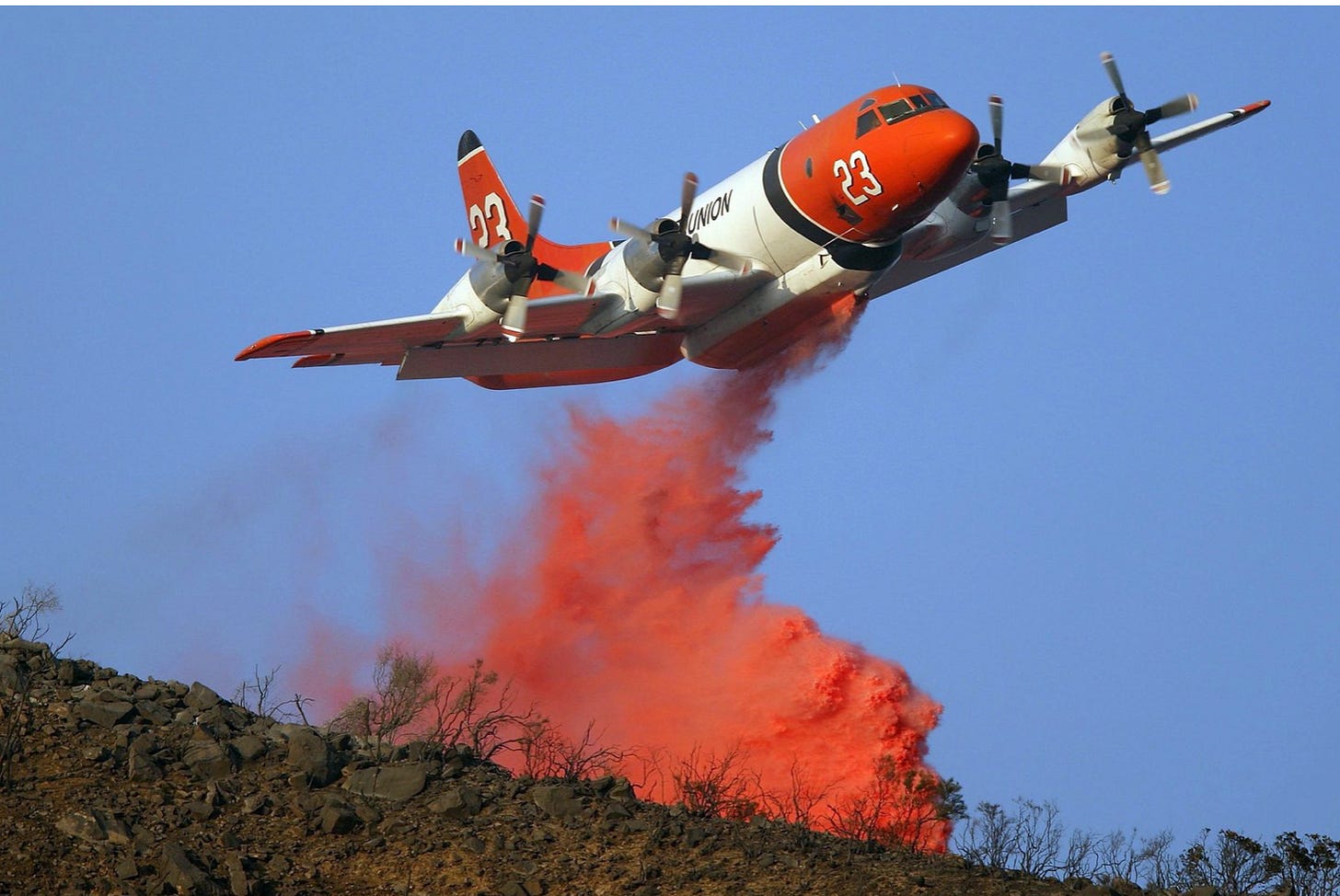 Small fires with the right conditions can become massive overnight.
At Risk Groups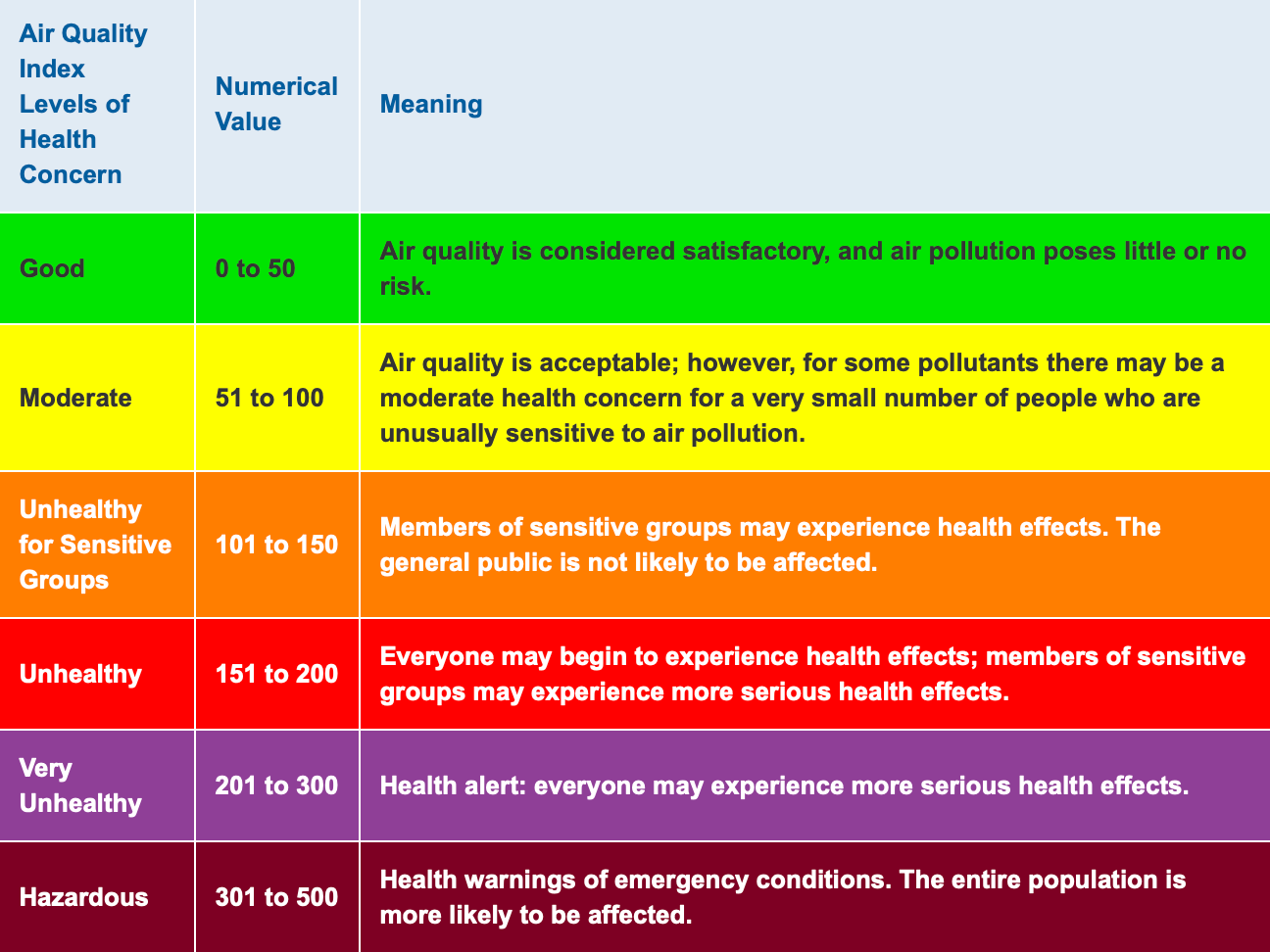 As they spread, wildfires can affect the air quality. Depending on one's age and health conditions, you should take precautions on what kind of activities you do and wear a mask. If the fire spreads enough, no matter how healthy you are and the precautions you take, you will be affected.
What precautions should you take? What will your life be like?
Masks everywhere until there's a vaccine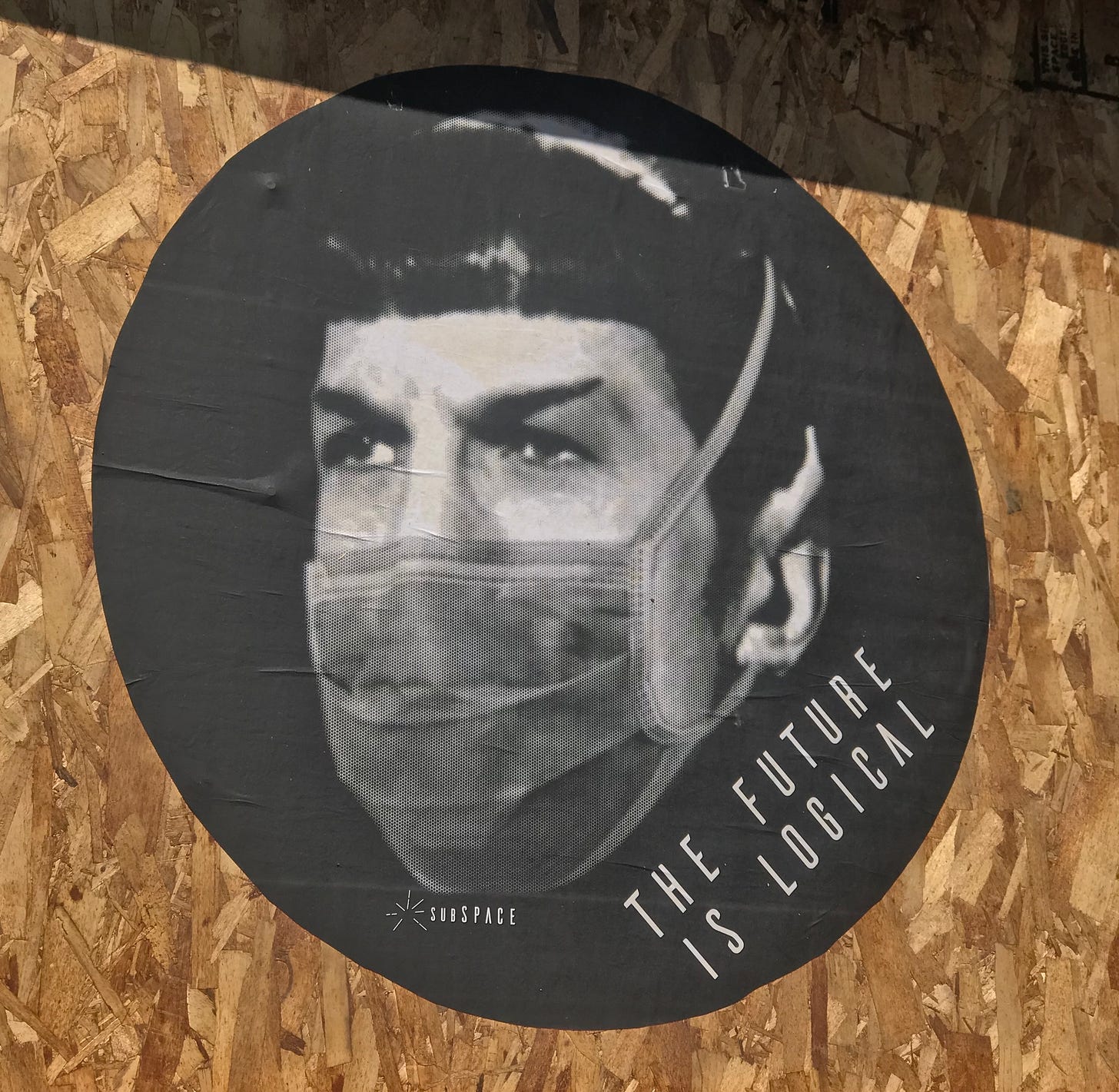 Seattle Street Art
Masks primarily help prevent you spreading the virus to others if you are infected and don't know it. This really shouldn't be controversial, but in some parts of the country it is. During the 1918 Flu Pandemic there was even an anti-mask league. Let's not repeat history.
Avoid indoor crowds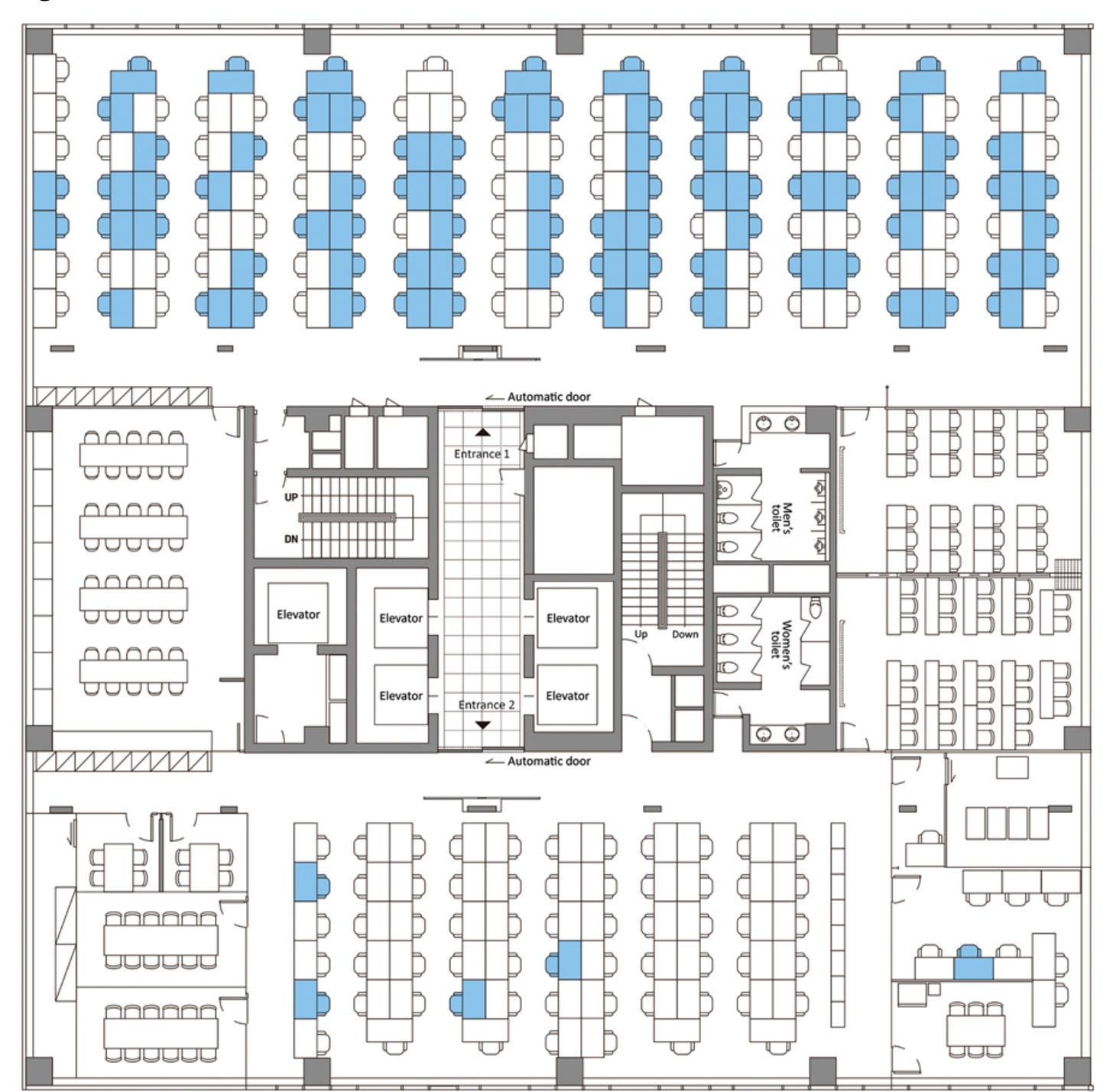 Outbreak in a call center. Many open office plans look like this
Studies from settings like a call center or a restaurant show how due to air circulation, being in the same indoors place as a single infected person can lead many others to get infected. If you work in an office but you can do your work fully remotely, you should continue to do so. If you need to physically go in, people will likely be divided into shifts. Companies like Google are already telling their employees the majority of their employees will work remote until 2021.
Settings like hospitals, warehouses, and factories will require PPE and frequent testing. I suspect restaurants will expand outdoor seating, with substantially reduced indoor seating.
Get outside while the weather is nice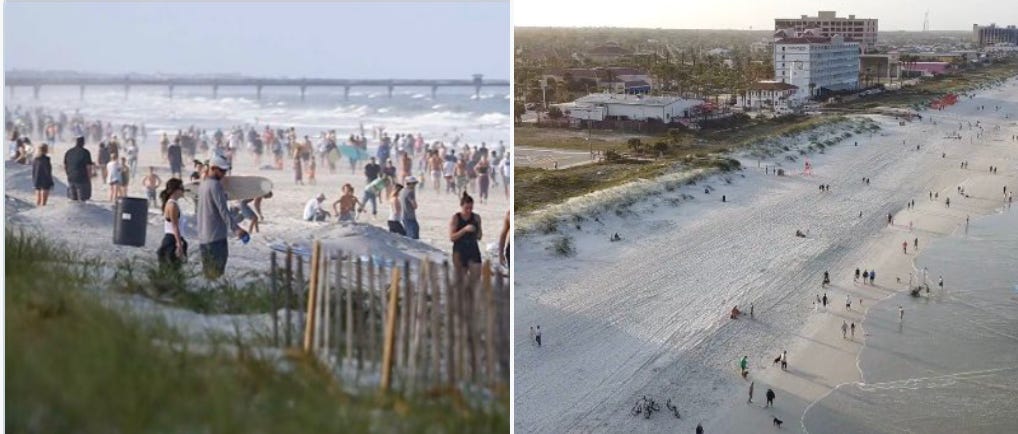 A lot of photos like the one on the left have been shared in order to shame people for crowding parks or beaches. Photos can be deceiving. Source
Thus far evidence points to very low risks of contracting the virus when people are outdoors and in sunshine, provided they are social distancing from others. Make sure large groups of people aren't partying, but don't close the beach. It's good for people's physical and mental health, and low risk if done right. Data indicates that in places with a big difference between spring/summer and winter weather, people are moving around more. Might as well enjoy it before winter hits and we're stuck indoors.
App augmented contact tracing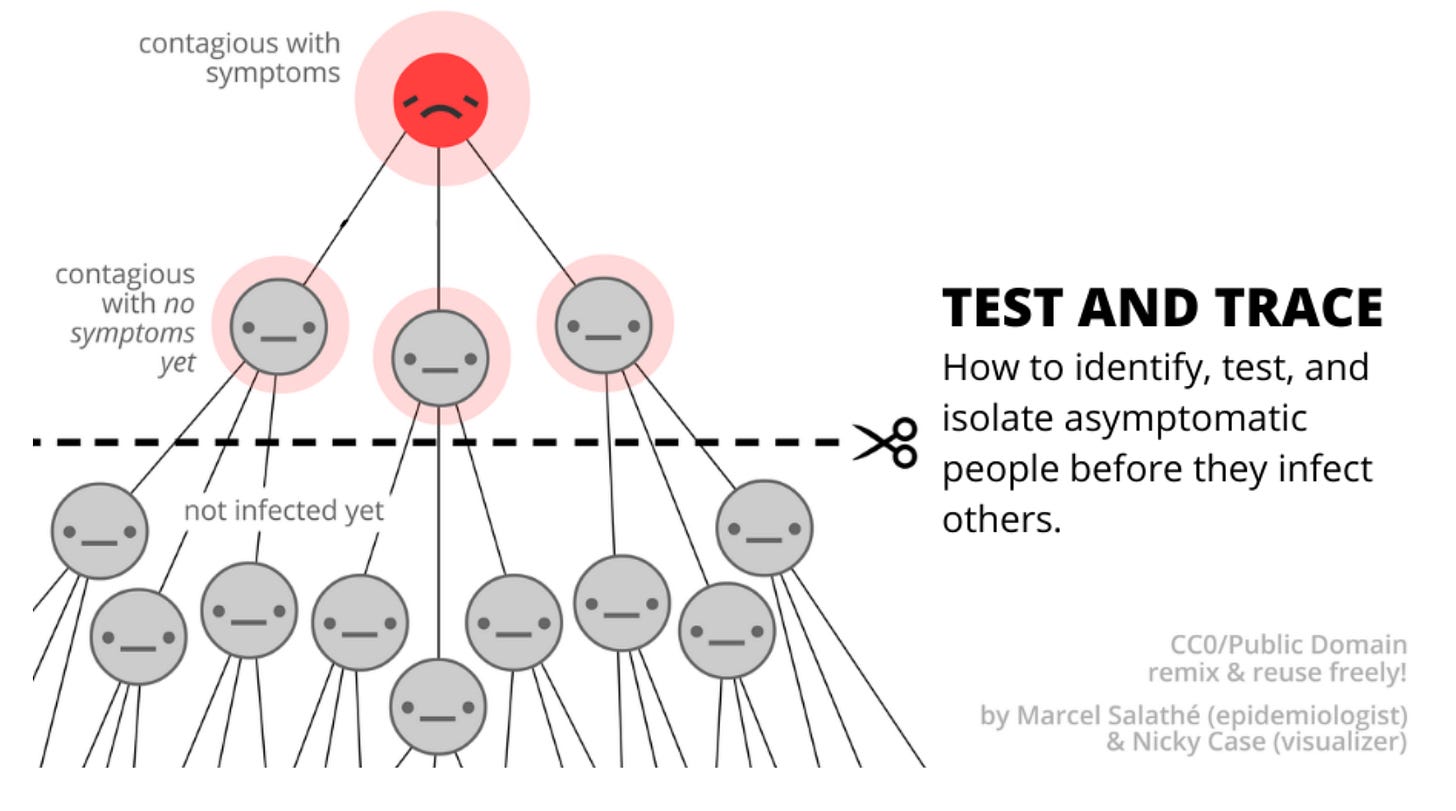 Source: #TestAndTrace
Judging by cell phone data, people are already returning to their pre-shelter in place mobility habits. Contact tracing infrastructure is critical to make sure that does not spark outbreaks.
Public health departments in cities and states are training thousands of "disease detectives." These are people that, if you test positive for COVID-19 will trace anyone you've been in contact with and instruct them to isolate. To augment their efforts, soon you'll probably be downloading a contact tracing app from your public health department. Employers may mandate them or create their own.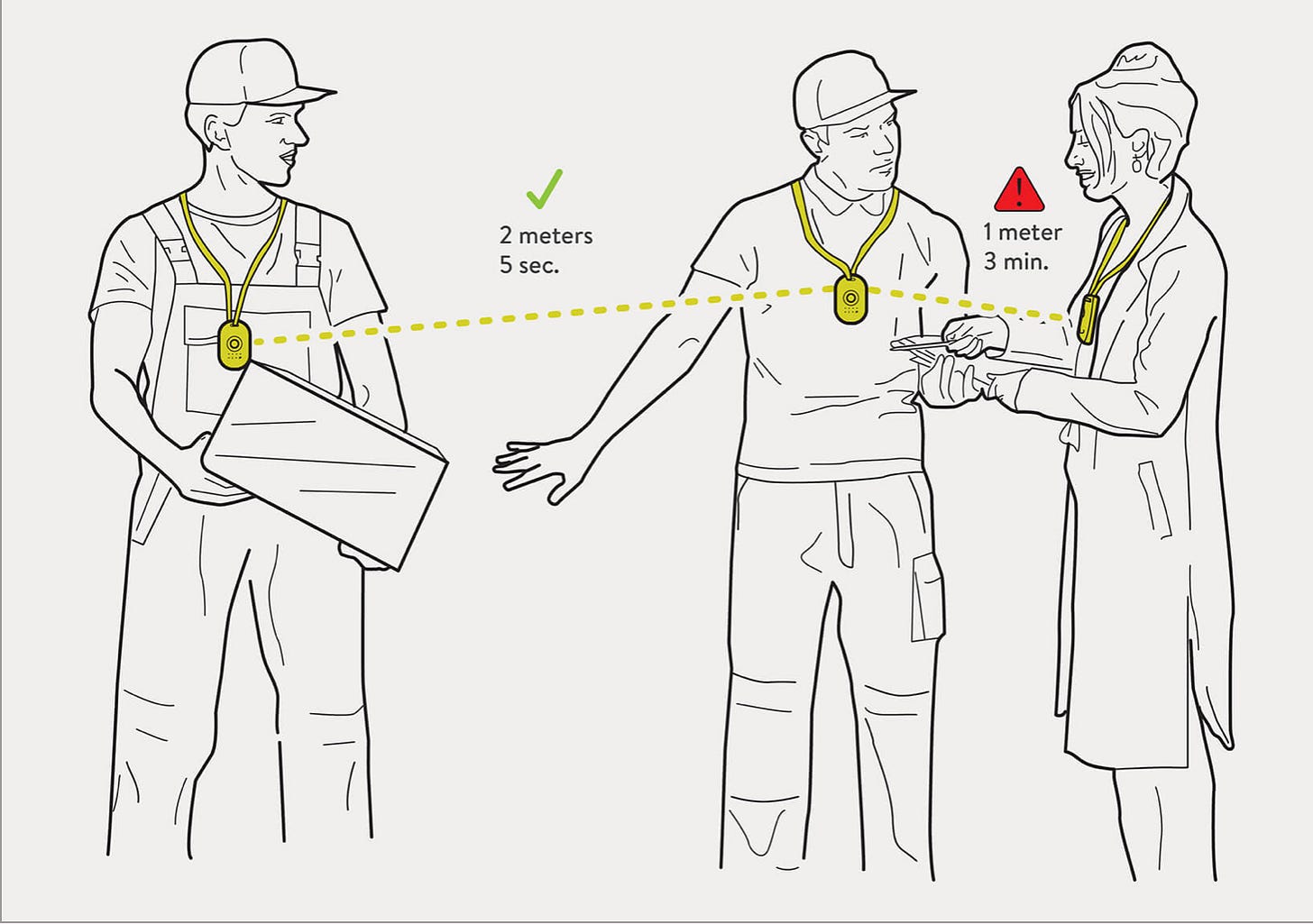 Source: Estimote
The first thing apps can help you with is proximity. Who were you near long enough to be an exposure risk? If one of those people tests positive, how can all those people get notified that they should isolate?
Apple and Google have created a framework that does this using Bluetooth rather than GPS, and works across iOS and Android devices. App developers, like public health departments can use this framework to create a contact tracing app.
There is a privacy debate around apps tracking your location at all times. The bluetooth based solution only says who you were near but not where. Disease detectives need to know where so they can track down hotspots, as they can't guarantee everyone is using apps. I think a good middle ground between public health and privacy is self reporting location data. Even if your public health app doesn't include GPS, your phone already knows where you've been. Apps can surface a summary of where you've spent your time that you can voluntarily report to public health authorities.
Isolate
Cities like San Francisco and New York are acquiring thousands of hotel rooms so that infected people can isolate without infecting their roommates and family in the process of isolating. 66% of new cases in New York have come from people sheltering at home. Asian countries have employed this tactic very successfully.
More data will help us calibrate our risk
Should kids be able to go to school in the fall? What age? Should daycare centers open up?

How many people have gotten the virus? How long does immunity last?

Besides age groups, what risk factors should someone consider?

If restaurants do outdoor seating is that safe?
---
I'm sharing my writing publicly now! This has been a goal of mine for a very long time, and I'm hoping to share my writing at least twice a month. My ideal format is to write something based on personal experience, share it, and use it as a mechanism to engage with others on the subject. It won't always be about coronavirus, so I hope you all are game for that.
Questions for this week:
What activity will you not do until there's a vaccine?

What's an activity with an acceptable risk you plan to do?
My answers:
International travel to a "hot zone," concerts, or anything that involves being in close proximity indoors with >50 people that I don't know

Road trips, outside the state TBD